Arabica Coffee Technical Analysis - Arabica Coffee Trading: 2023-05-22
COFFEE Technical Analysis Summary
Strong Sell
Sell
Neutral
Buy
Strong Buy
| | |
| --- | --- |
| Indicator | Signal |
| RSI | Neutral |
| MACD | Sell |
| MA(200) | Neutral |
| Fractals | Neutral |
| Parabolic SAR | Buy |
| Bollinger Bands | Neutral |
COFFEE Chart Analysis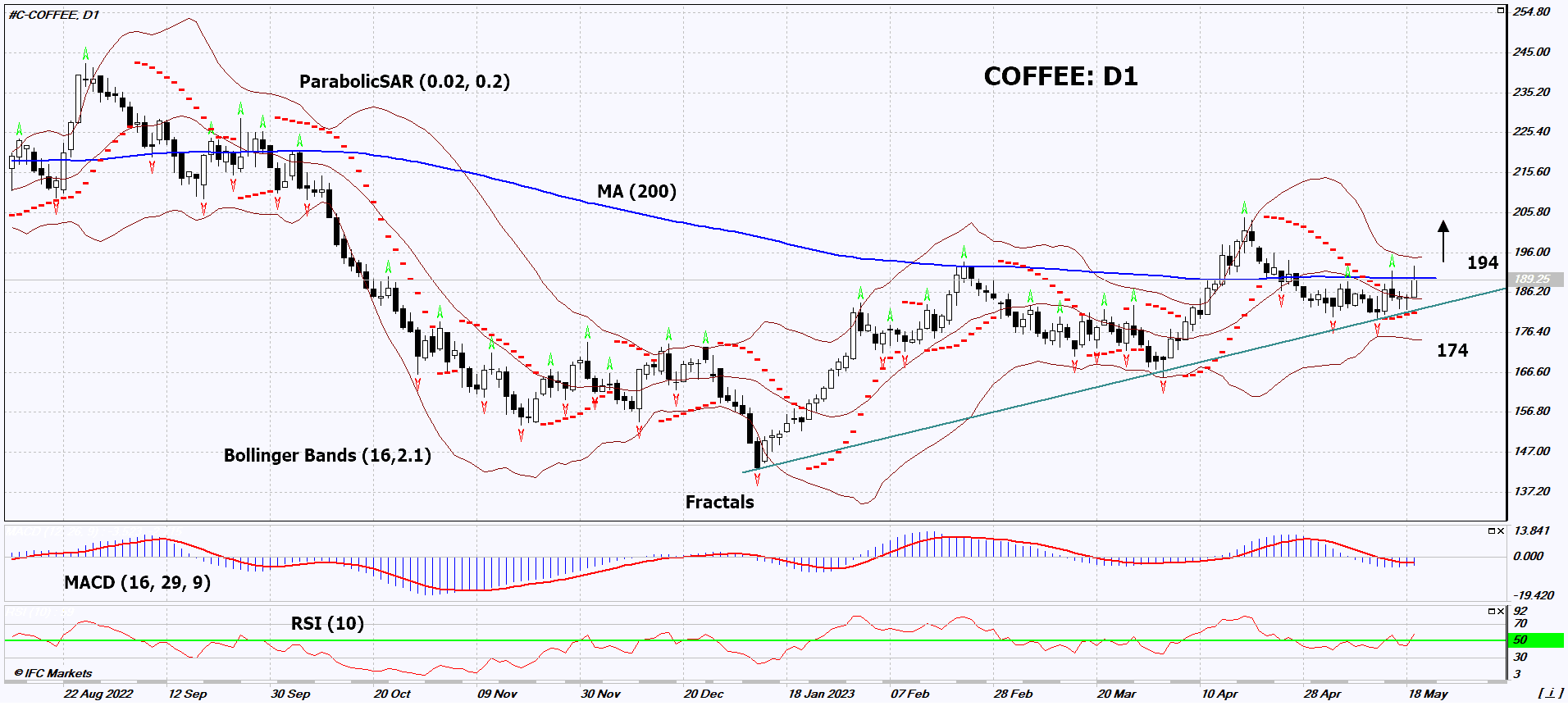 COFFEE Technical Analysis
On the daily timeframe, COFFEE: D1 is in an uptrend and has approached the 200-day moving average line. It should be broken above before opening a long position. Several technical analysis indicators have formed signals for further upward movement. We do not exclude a bullish movement if COFFEE: D1 rises above the last fractal high, the 200-day moving average line, and the upper Bollinger Band: 194. This level can be used as an entry point. The initial risk limit can be placed below the Parabolic signal, the last fractal low, and the lower Bollinger Band: 174. After opening a pending order, the stop loss should be adjusted along with the Bollinger Band and Parabolic signals to the next fractal minimum. This way, we adjust the potential profit/loss ratio in our favor. The most cautious traders can switch to the four-hour chart after executing the trade and set a stop loss, moving it in the direction of the movement. If the price surpasses the stop level (4.7) without activating the order (4.9), it is recommended to cancel the order: there are internal changes happening in the market that were not taken into account.
Fundamental Analysis of Commodities - COFFEE
Some countries have reduced coffee supplies to the global market. Will the rise in COFFEE quotes continue?
The agricultural agency Cecafe reported a 14% y/y decrease in green coffee exports from Brazil in April, amounting to 2.39 million bags. The Colombia Coffee Growers Federation reported a 15% y/y reduction in coffee exports from Colombia in April, totaling 719,000 bags. The International Coffee Organization (ICO) stated that during the agricultural season of 2022/2023, from October to March, global coffee exports declined by 6.4% y/y, reaching 62.3 million bags. The Conab agency lowered its coffee crop forecast for 2023 to 54.7 million bags. In January, they had forecasted a crop of 54.9 million bags. Additionally, the coffee market may be influenced by the natural phenomenon El Niño. The U.S. Climate Prediction Center estimates a 94% likelihood of its formation from August to October of the current year.
Note:
This overview has an informative and tutorial character and is published for free. All the data, included in the overview, are received from public sources, recognized as more or less reliable. Moreover, there is no guarantee that the indicated information is full and precise. Overviews are not updated. The whole information in each overview, including opinion, indicators, charts and anything else, is provided only for familiarization purposes and is not financial advice or а recommendation. The whole text and its any part, as well as the charts cannot be considered as an offer to make a deal with any asset. IFC Markets and its employees under any circumstances are not liable for any action taken by someone else during or after reading the overview.
Latest technical analysis